"SuperDu" Becomes Luymes Dot Com
Some of my readers may know that I first began "On The Road With Dave" with frequent commentary about Multi-level Marketing and in particular the Amway Corporation and it's then spin-off company, Quixtar. I was a frequent reader and commenter and later contributor to the website, Quixtar Blog. Quixtar Blog was sometimes a site where critics of MLM would gather to vent and rant about their experiences with Amway and Quixtar and other MLM companies. I provided "pro" arguments about the business and debated quite a few critics.

Shortly after Quixtar's launch back in 1999, (and I will always believe in part due to The Quixtar Blog) Amway Corporation began a concerted effort to build a web presence and began producing blogs of its own authored by various Amway/Quixtar staff.

One such blog, The Real Quixtar Blog was originally authored in pseudonym by a guy named "Kia". (Know it all) Later Kia, announced he was Robin Luymes, Manager of PR and Editorial at Quixtar. I liked Robin from the very beginning. He was making strides to write his blog with some authenticity and included personal stories, opinions, and events on his homefront as well as "corporate" PR writings and answering hundreds of questions in comments. When Amway Global decided to drop the Quixtar moniker and revert back to the Amway brand; Robin dropped The Real Quixtar Blog moniker and became "SuperDu".

SuperDu was an even more personal blog than corporate-ese and Robin excelled even more. I liked the slant of SuperDu even more. Then last year, I met Robin Luymes while on a trip to Prague to discuss blogging with some Amway PR folks. Robin was an excellent host, told some great stories, and I could see how he was genuine in his writings, because he was genuine in person. He was "real".

Last month, Robin left "SuperDu" and Amway Global. "SuperDu" is scheduled for what Amway Global calls a "sunset". You should pay it a visit, before it comes down.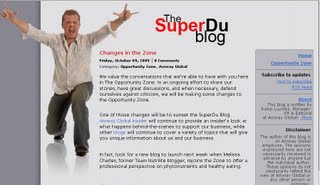 But, the sun is not setting on Robin Luymes. Robin has launched a new website at Luymes Public Relations, LLC; complete with a new blog discussing Public Relations among other things.

Robin says,
"In this blog I expect to share about my views and experiences as a PR professional. That will include my opinions on best practices for the public relations profession, including use of social media by organizations. I likely will talk about my personal life as well, especially how that relates to my profession and my business. Many of my posts will draw upon past experiences, including those with Amway Corp., my employer for nearly 18 years, and as a reporter for the Grand Rapids Business Journal before that."
I want to wish Robin best of luck in his new endeavor and to let him know I'm rooting for him and, oh yeah; I'll be adding "Luymes Dot Com" to my "Links I Like"
Labels: Amway Global, Blogs, Public Relations